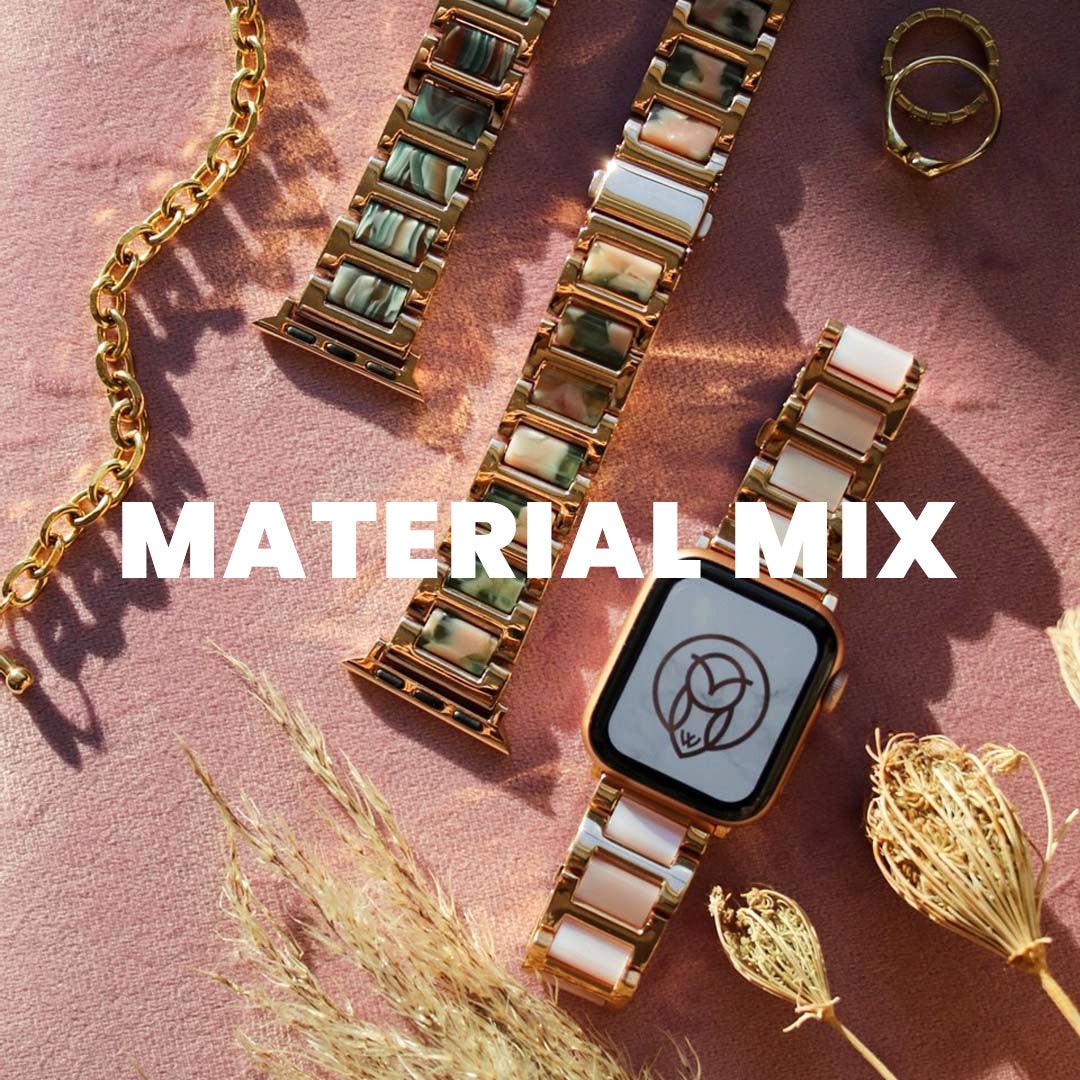 Mixed Metal Apple Watch Band: An Innovative Material Mix
15 products
An Innovative Material Mix of Bands
Step into the realm of our Mixed Metal Apple Watch Band, where innovation meets style in our Material Mix collection. Here, each band is a masterpiece, seamlessly blending materials like ceramic, leather, and gemstones with metal. Consequently, these bands are not just accessories but a statement of sophistication and comfort.
Unleashing Creativity with Every Design
Delve into the exceptional craftsmanship that characterizes our bands. They aren't merely aesthetically pleasing; they are constructed with the utmost attention to comfort. Hence, they are perfect for wearing throughout the day. The combination of different materials lends a luxurious texture, ensuring your mixed metal apple watch band is a standout accessory in any environment.
Diversity in Design: A Spectrum of Styles
In our collection, you'll find an impressive variety of styles. Whether you lean towards the understated elegance of ceramic or the boldness of leather, there's a band to match every taste. Therefore, these bands are ideal for elevating your style, regardless of the occasion.
Why Opt for Our Material Mix Bands
Why settle for the ordinary when you can choose the extraordinary? Our mixed metal apple watch band is an epitomt of WizeBand's commitment to innovative design and quality. They blend fashion and durability, making them a wise choice for discerning Apple Watch users.For any questions or support, don't hesitate to contact us. We're always ready to assist you in finding your ideal Apple Watch band. Also, stay in the loop with the latest from WizeBand by following us on Instagram, Facebook, YouTube, Pinterest, and TikTok.Enjoy stress-free shopping with our straightforward delivery policy. Easily track your orders through our order tracking system, and discover the unique world of our Material Mix Apple Watch bands!