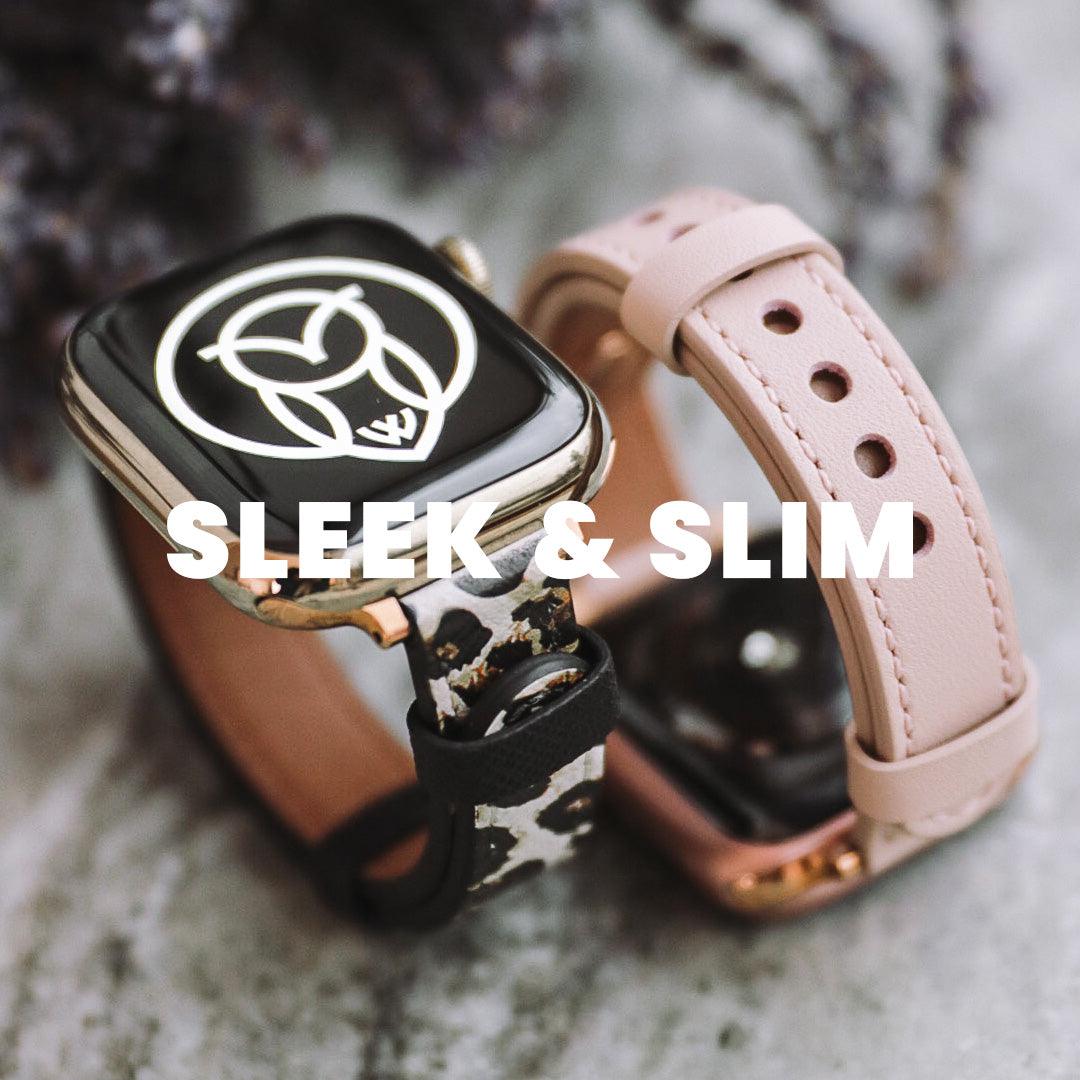 10 products
Slim Leather Apple Watch Bands: Discover Sleek & Slim Elegance
Step into the realm of minimalist fashion with our Sleek & Slim collection, where each slim leather Apple Watch band is a masterpiece of design and practicality. These bands, perfect for fashion-forward individuals, blend effortlessly with any wardrobe, adding a dash of sophistication to your daily attire.
Where Style Meets Simplicity
Every band in our Sleek & Slim collection is a celebration of minimalist aesthetics. Crafted meticulously from the finest leather, they offer both a snug fit and lasting comfort. Moreover, this selection of slim leather apple watch band makes a significant impact with its subtle elegance, enhancing your look whether you're in a boardroom or at a weekend brunch.
Comfort Redefined in Every Stitch
At the heart of our Sleek & Slim collection lies unparalleled comfort. The bands' lightweight nature ensures they sit comfortably on your wrist all day. Furthermore, the quality leather conforms to your wrist shape, creating a personalized fit that is both luxurious and comfortable. Dive deeper into our diverse range of Apple Watch Bands for more options.
Exclusive Fashion Statement
Choosing a band from our Sleek & Slim collection means embracing a unique style ethos. Each piece speaks volumes about our commitment to high standards and distinguished style, setting you apart in any setting. These bands symbolize more than just fashion accessories; they are a lifestyle choice for the discerning.
Have questions? We're here to help. Contact us for assistance in selecting the perfect band for your Apple Watch. Stay in the loop with our latest trends by following us on Instagram, Facebook, YouTube, Pinterest, and TikTok.
Shop with confidence thanks to our straightforward delivery policy. Track your orders with ease via our order tracking system and immerse yourself in the world of Sleek & Slim luxury!