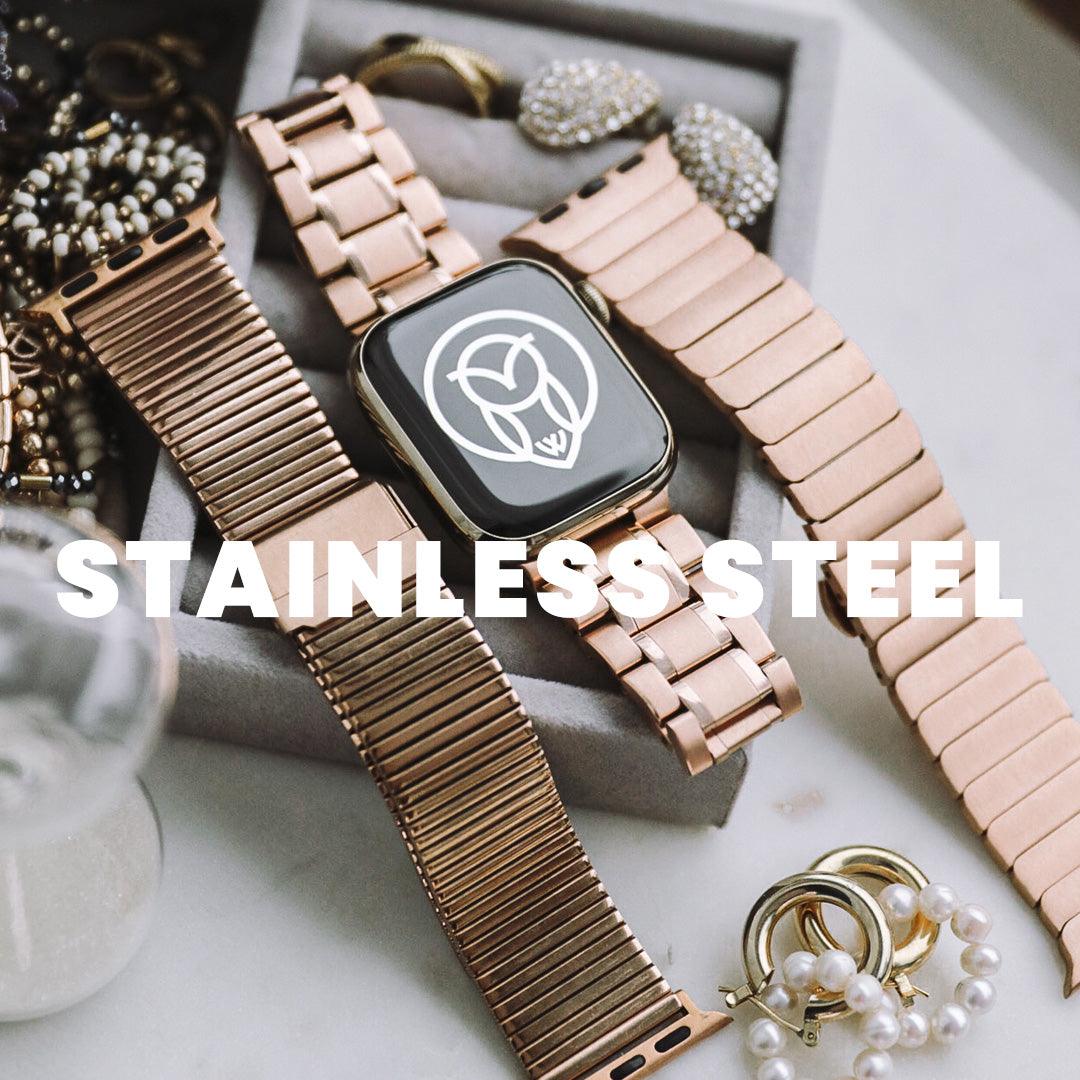 Stainless Steel Apple Watch Bands
22 products
Stainless Steel Apple Watch Bands: The Epitome of Elegance and Durability
Welcome to WizeBand's Stainless Steel Apple Watch Bands Collection, where we blend the robustness of stainless steel with chic design to elevate your Apple Watch experience.
Discover the Strength and Style of Our Collection
Each band in this collection is meticulously crafted to provide not just an accessory, but a statement of style and strength. Our stainless steel bands are the perfect combination of sleek design and enduring quality, ensuring they withstand the test of time while enhancing your everyday look.
Why Choose Our Stainless Steel Bands?
Aside from their undeniable durability, these bands offer a luxurious feel, making them suitable for both casual and formal occasions. Moreover, their versatility ensures they match seamlessly with any outfit, adding a touch of sophistication to your look.
Comfort and Elegance in Every Link
Our bands are designed with comfort in mind. The smooth finish and adjustable links provide a snug, comfortable fit for any wrist size, ensuring you can wear them throughout the day with ease. Fast and reliable delivery ensures that these exquisite bands reach you swiftly.
Stainless Steel Bands: A Timeless Choice
Stainless steel is known for its timeless appeal and resilience. It's the perfect material for those who appreciate both aesthetics and functionality in their accessories. Our collection boasts an array of styles, from classic to contemporary, ensuring there's a band for every taste.
For inquiries or assistance, don't hesitate to contact us. Our team is always ready to help you find the perfect band for your Apple Watch.
Remember, with our order tracking system, you can easily keep tabs on your purchase, ensuring a worry-free shopping experience.
Stay connected and inspired by following us on Instagram, Facebook, YouTube, Pinterest, and TikTok.